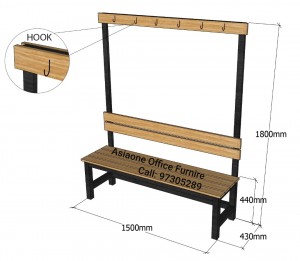 Asiaone – Locker Room Bench

can serve a variety of purposes; from helping someone take a breather after a hard workout, to providing a good place to sit so a patron can change from their dress shoes to their sneakers without having to hop around on one foot, and to allow easy access to a locker's lower area.
Our metal bar bench and wooden bar bench are our most popular bench. All metallic parts are pre-treatment with rust resistant coating before painting and coated with epoxy powder paint.
Specification:
Dimension: H450 x L1200 x D300mm
Dimension: H450 x L1500 x D300mm
Dimension: H450 x L1800 x D300mm

**Optional: custom made (size and color) is available subjected to T&C applied